When you make the switch to Thumper the old fashioned under bonnet dual battery systems will become a thing of the past.

Thumper is a practical portable Dual Battery system which can be mounted anywhere in your Vehicle, Camper/Caravan or Boat.


Thumper is the perfect option for those who either have no space for a traditional dual battery system or would like to have the freedom of a portable system that can be easily seperated from the vehicle with a massive jumpstarting capability. Most commonly used for powering 12 volt refrigerators & lighting the applications stretch only as far as your imagination.





Why Buy A Thumper?

Cost Effective and in most cases cheaper than a dual battery system (Sell your car take it with you!)
Units ranging from 15 Amp Hour – 105 Amp Hour (The Getaway range come with Inverters)
Super Fast Recharge 2-3 Hours from dead flat using latest Absorbed Glass Matt Batteries
Simple to Install - Charge Kit Included (Watch the video here)
Jumpstart almost anything

'Spike Protected'

(large units will easily start 12 litre diesels)
Batteries will realistically last 6-10 years - batteries are replaceable.
Easily intergrate with your Caravan or Camper Trailer

Available in 30, 48, 60, 75 & 105 Amp Hour Units - Everything you need included in the box!

Voltage Display

Know exact charge status at the push of a button

Circuit Breaker protection

Complete Protection via inbuilt Circuit Breakers.

AGM Batteries

Do not leak or gas which means Thumper can be installed on its side or upside down under a bed

Range of Quality Corrosion Proof

Anderson, Cig & Hella Sockets built in

Marinisation

Protects units from Harsh Conditions & Salty Enviroments

2 year Waranty

PLUS All Thumper batteries can be re-packed then given new 2 year warranty.

Australian Made

13 years in the Market

Versitile

Thumper can be combined with Solar Panels, Inverters, Caravan & Camper Trailers etc

Carry Handles

Portable and easy to carry via Heavy Duty Carry Handles

Jumper Leads

Heavy Duty Spike Protected Jumper Leads (Vehicle)

Car Charge Kit

Full In car Charge Kit/Isolator Included. (Never flatten your start battery again)

Telephone Support

24/7 Free Call friendly advice and aftersales support.
07 31234715
All units are supplied with a

Complete Charging System

for the vehicle or boat, which when installed correctly, will allow for a

recharge time of 2 – 4 hours and never let your vehicles starting battery go flat

as it automatically separates the Thumper from the starting battery when the motor is not running.
The batteries are maintenance free and

will not leak or gas when charging

; perfect for use inside the vehicle or enclosed areas.
Unlike many batteries on the market, the Thumper does not hold a 'memory',which means that at any stage, regardless of the state of charge the Thumper may be recharged or discharged, without affecting the life of the unit which is approximately 5-7 years after which the units can be re-packed and given a brand new 2 year warranty.
The entire Thumper range goes through a marinising process, which will protect the unit from corrosion against salty air and harsh environments – making it the perfect option for Marine use!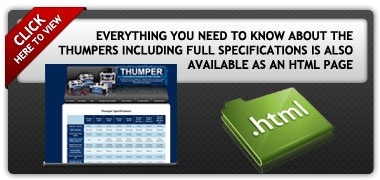 What size Thumper do I need and how do I work it out?
Step one - Find the average amps per hour 'A/H' consumption for all of the 12v accessories you would like to operate then add them together.
(You will find the Amp Hour rating either printed on the 12v device or in the operators handbook)

What is an Amp Hour?

An amp hour is the rated consumption of an appliance over one hour. If you had a 105 A/H Thumper and you discharged the unit using a fluorescent light thatdraws 1 Amp per hour the unit would last for a duration of 105 hours before needing recharging.

Step two - Multiply the total Amp hours you calculated above by how many hours you would like your accesories to run for.

Example: Peter and Mary have a 12v Fridge that draws 2 A/H and a 12v Flourecent Light that draws 1 A/H and they want to power them continuosly for 48 hours without charging. Firstly they would calculate their total power consumption like this - Fridge 2 A/H + Light 1 A/H = 3 A/H.
Next they would take their 3 A/H consumption and multiply by 48 Hours = 48 x 3 A/H = 144 A/H
Peter and Mary would go for the 105 A/H Thumper.

If they then wanted the their system to run for longer they would need to recharge the unit by: Running the engine, Solar Panels a Generator or 240v Battery Charger.

Take into account that driving will be recharging your Thumper for example 1 hour of driving you will have put 25% charge back into your battery.

The Chart above is a great help in choosing the correct Thumper

Feel free to call the Thumper Guru - Klaeton direct on 07 31234715
anytime for advice and help choosing the correct unit for your application.
Installing your new Thumper is Easy!
First mount the included Isolator under the bonnet close to the Starting Battery then connect the RED wire to the (+ Positive) terminal of your Starting Battery, the Black Wire needs to be attached to the body of your vehicle or the earth terminal of your Start Battery.

The last wire goes to a circuit in the vehicle that is active when the key is switched to the on position. (If you don't know how to find this circuit an easy solution is to install everything else then take your vehicle to the local Auto Electrician who will wire it in for you which is a very very simple job for them and shouldn't cost more than $20.

Run the long run of cable to the back of your vehicle or wherever you want to put the Thumper.
Finally mount the rear socket & plug your Thumper into it via the included patch lead.
Plug in your fridge into the Thumper. You are finished! EASY!
Of course if you need help you can call us anytime night or day on 07 31234715 as we know how it is when you are on a mission to get your new toy fitted. Remember to watch the two videos above which are very comprehensive.


| | |
| --- | --- |
| Incorporating Your Thumper With Your Caravan or Camper | How To Install Your Thumper |

What is Thumper?

Is jump-starting my vehicle safe?

Will the Thumper start my diesel?

What Type of Batteries are used in the Thumper Range?

Will they leak or spill?

Can I store the unit in a non-ventilated area, such as under a bed?

Do the batteries hold a memory?

Explain In Vehicle Charging?

Can I charge my unit and discharge it at the same time?

How to Install the in vehicle charge kit?

Explain Charging from a 240v Source?

Can I recharge my unit straight from my generator?

Can I use Solar Panels to charge my unit?

Will it run my fridge?

Can I use inverters for 240 Volt appliances?

How long will the battery last while running my appliances?

What is an Amp Hour?

What size Thumper do I need?

What is the life expectancy of the batteries used?

What is the warranty of the Thumper?

What do I do when my cells in my unit die?

Where and how are the Thumper units made?